Compressor kit
ASY0000332 (shown) includes:
* Compressor
* Starting Capacitor
* Air Filter
* Bleeder/Unloader Valve
* Check Valve
* Regulator Value
* Brass Air-Output Coupling
* 4-Rubber Feet
* All Mounting Hardware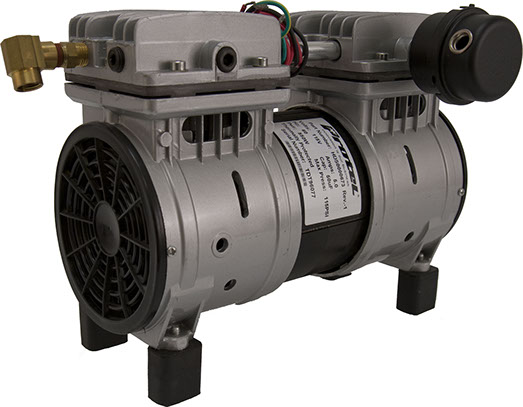 Compressor can be purchased separately without accessory hardware.
Motor / Compressor Specifications
* Twin Cylinder, Low Noise, Oil-Less Compressor
* Maximum Pressure 115 psi
* Noise level: Low
* Power: 3/4hp (550w), 120VAC @ 4.5 Amps, 60Hz, Thermally Protected
* Start Capacitor: 50 uF
* Dimensions: 10.5" long x 5.75" wide x 8" high
* 4 - Rubber mounted feet included
* Reduces Out-of Service down time due to the following:
1) Breaker tripping caused by LRA (Locked Rotor Amperage)
2) Cold Weather freeze-up caused by moisture in cylinder head
3) Breaker tripping caused by high head pressure compressor start-ups
Compressor drawings and tech notes
Compressor Head Design
* Eight (8) Input/Output ports
* 1/4" female NPT threads
* 4- Air Intake ports allow for maximum compressor cooling, lower temperatures extends compressor life
* 4 - Exhaust ports accommodate flexibility in compressor mounting
* Dual Pistons/Heads reduces compressor load allowing for smaller drive motor and reduced electrical load
Competitor's Single Compressor Action
Pulsed uneven air flow (50% duty Cycle).
Compression & Motor Load occurs only on the half cycle. The results are:
1) Requirement for large heavy weight piston
2) Requirement for motors with double the HP rating compared to a Dual Piston machine
* The larger piston size increases machine vibration
* A single piston action compressor has no counter piston offset thrust to balance the piston inertia. The increased vibration can lead to premature component failures and higher levels of noise
* Many single cylinder compressors are subjected to LRA (Lock Rotor Amperage) resulting in tripped circuit breaker leading to costly service calls. LRA Currents can exceed 40 Amps
Protel's Dual Compressor Design
Constant Air Output (100% Duty Cycle).
With Dual Piston compressors the pistons share the compressor load. The results are:
* Operates with smaller and lighter weight pistons
* Can operates on 1/2 the motor size (4.5 Amps, not 14 Amps)
* Smaller pistons reduce vibration
* Piston action is balanced. As one piston goes up the other one goes down canceling thrust and vibration
* Reduced piston size also reduces start-up current surges.
* There is no LRA factor (Locked Rotor Amperage) with this compressor, therefore eliminates LRA Circuit Breaker Trips
* Protel's compressor will allow both the Air Compressor and most Air Vacuum motors to operate from a single 20 Amp Circuit Breaker, therefore reducing installation and operating costs
* Cooler operating temperature exponentially extends Motor / Compressor life
Additional Features
* Check Value
* Assures Air Flow in one direction only. Prevents:
a) Air from air-hose returning to compressor,
b) Moisture from air-hose and/or from tire returning to compressor cylinder heads. This lessens the chance that the compressor will freeze up when operating in cold temperatures.
c) Gunk in tire i.e. flat tire chemicals from gumming or corroding cylinder head.
* Regulator Valve provides adjustable maximum Air Pressure Setting. Factory set to 95 lbs.
* Bleeder / Unloader Valve allows compressor to start under 0 pressure load
* Air Filter with replaceable paper air filter.